How-to-Use-Water-Wisely-Tips-for-Saving-and-Reusing-Water-at-Home
Clean Freshwater is a scare and vital resource here on Planet Water (that should be the name, rather than Planet Earth, as water is vital for life as we know it). Most people are trying to save water to save money, but it is hard to know whether its worthwhile. If we could all save and reuse water there would be less need for expensive dams and water supply devices such as desalination plants. These water capture and storage systems are bad for the environment.
So what water saving methods are worthwhile, and how much of a difference to they make? The images below show what a typical family of four (2 parents and 2 children) uses water on.
The Figure shown below shows the water use pattern of a typical American household. It highlights that more than 50% of the water is used for washing - showers, dishwashers, washing machines. Australian families used much more water on their gardens and lawns - as is shown in the tables below. These are the main useage areas where savings can be made.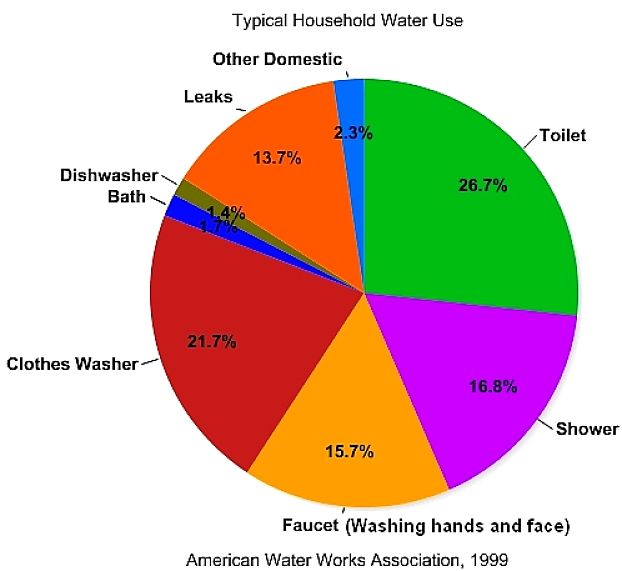 One way of exploring your water use and seeing what impact various will make is using a calculator. You can do the calculations on various websites. You can also download an Excel version of the same tool from the same site. Another version is available here. Below is a summary of typical water use before savings applied, and after the major saving have been implemented.
BEFORE SAVINGS APPLIED
| Water Use | Estimated Water Quantity (L) | How many times per day (per family) | How many times per week | Total litres per day | Percent of Use (%) |
| --- | --- | --- | --- | --- | --- |
| Flushing Toilet - Full Flush | 11 | 8 | | 88 | 8 |
| Showering (5 min) | 100 | 4 | | 400 | 35 |
| Having a bath - Full | 120 | 1 | | 120 | 11 |
| Cleaning teeth - Tap Running | 5 | 12 | | 60 | 5 |
| Washing hands | 2 | 16 | | 32 | 3 |
| Washing Dishes - Dishwasher | 35 | 5 | | 175 | 15 |
| Cooking a meal | 7 | 3 | | 21 | 2 |
| Drinking a glass of Water | 0.25 | 16 | | 4 | 0 |
| Washing clothes (old washing machine) | 160 | | 4 | 91 | 8 |
| Washing Car/s | 180 | | 1 | 26 | 2 |
| Washing Pet/s | 50 | | 1 | 7 | 1 |
| Hand Watering the Garden Or Garden Sprinklers | 400 | | 2 | 114 | 10 |
| | | | Total per day | 1139 | |
| | | | Total per week | 7970 | |
The First Table above shows calculated water use for a typical family of two adults and two children. It shows that most of the water was used for the following purposes:
Showering (35%) and in the bath (11%)
Washing dishes in a dishwasher (15%)
Washing clothes in an old style machine (8%)
Watering the garden (10%)
Flushing the toilet (8%)
Applying the various savings shown in the second table produced a total reduction of more than half - from1139 litres per day to 500 litres per day.
Figures in the Second Table show that most of the savings occurred in:
Showering ( 34% of the reduction)
Washing Dishes (16% of the reduction)
Reduced Watering of the garden and lawns (13% of the reduction)
This summary shows that relatively small changes can produce substantial water saves.
Some of the Tips for Saving Water are shown below
AFTER SAVINGS APPLIED
| Water Use | Estimated Water Quantity (L) | How many times per day (per family) | How many times per week | Total litres per day | Percent Reduction (%) | Saving as Percent of Total |
| --- | --- | --- | --- | --- | --- | --- |
| Flushing toilet - Half Flush | 5 | 4 | | 20 | 77 | 11 |
| Showering (5 min low flow showerhead) | 45 | 4 | | 180 | 55 | 34 |
| Having a bath - Half Full | 60 | 1 | | 60 | 50 | 9 |
| Cleaning teeth - Tap Turned off | 1 | 12 | | 12 | 80 | 8 |
| Washing hands | 2 | 16 | | 32 | 0 | 0 |
| Washing Dishes - Kitchen Sink | 15 | 5 | | 75 | 57 | 16 |
| Cooking a meal | 7 | 3 | | 21 | 0 | 0 |
| Drinking a glass of Water | 0.25 | 16 | | 4 | 0 | 0 |
| Washing clothes (front loader washing machine) | 60 | | 4 | 34 | 63 | 9 |
| Washing Car/s | 180 | | 1 | 26 | 0 | 0 |
| Washing Pet/s | 50 | | 1 | 7 | 0 | 0 |
| Hand Watering Garden | 100 | | 2 | 29 | 75 | 13 |
| | | | Total per day | 500 | | |
| | | | Total per week | 3498 | | |
Quick Tips for Saving and Reusing Water at Home
Become a Water Wise Advocate in your Community - Encourage your associates and friends to be part of a water-saving and aware community. Encourage your friends, co-workers and neighbours to do their bit. Like the water drops falling into a river it all adds up and if the whole community becomes involved the savings can become very effective - we can't rely on Governments - Water Authorities have a vested interest in keeping us wasting water.
Install rainwater tanks in your backyard - A rainwater tank of various size and design can capture and store many thousands of litres of water each year. It is a great way to teach you that water is a scare resource and that its supply is variable. Use it on the garden, for drinking water (if its not polluted by the roofing materials or the atmosphere), or for the grey water
Reuse your grey water - Whether you use the simple 'bucket' or drain-hose procedure to collect grey water, or have an entire grey water system established, reusing precious water assets can substantially decrease your water use.
Buy Water-Conserving Appliances - New appliances for example washing machines and dishwashers have water use labels on them that let you know how much water they use. Modern appliances are much better than the old ones.
Check Everything for Leaks - This applies to valves, taps, pipes, swimming pools and dishwasher hoses. Leaks are a surprisingly large source of water loss and plugging the leaks is a good way to save on your water bill. Remember, one simple dripping tap can waste you more than 2,000 litres every month. To do a basic check - turn off every tap and appliance in your house. Then read your water meter and wait for an hour of so, or overnight if you can, and read the meter again. If the meter shows a higher reading, there 's a leak in your house somewhere. The first place to check are dripping taps and your toilet. The washers are easy to replace.
In the kitchen
Put the plug when cleaning your hands rather than washing them under the tap. Also do the same when waiting for the warm water to arrive.
Don't Thaw things under running water - Thaw frozen goods well before you need them in ther fridge, or use the microwave rather than putting them under a running tap.
Replace your Dishwasher with a more efficient modern version that uses much less water. This can decrease the water needed from 40 litres per load.to about 18 litres per load. Washing by hand only requires about 15L of water. Only run the dishwasher when it is full, and rinse the items in a sink full of water rather than under a tap.
Keep a container of water in the refrigerator so you won't have to run and waste the water until it's cold enough to drink on a hot day.
Wash vegetables, fruit and pasta (etc.) in a half-filled sink of water, rather than in a stream of running water to stop the waste.
Garbage-disposal systems use about 30 litres of water per day and this adds up, so only use them sparingly and use a compost heap instead.
In the Laundry
Always ensure you regularly clean the lint filter on your washing machine.
Most modern washing appliances have a water level or load change button and so you should always match the amount of water you use to the size of the load. Otherwise always wait until you have a full load.
Divert your grey water from the laundry onto the flower beds or lawns. Grey water divertersion systems are relatively easy to install. Consider buying a front loading washing machine. They usually use less water than top loading models.
In the Bathroom
Take short showers. Soap up, wash all over and then rinse off. A bath uses much less water than for a long shower. You save hot water heating costs as well, particularly if you don't fill there bath to the top.
Installing one of the latest water-miser showerheads can provide a wonderful shower, but still save you about 10 litres of water a minute. This also saves water heating costs as you will use much less hot water.
Rinse your razor in a small amount of water in the plugged sink. Rinsing under a running tap is very wasteful.
Don't leave the tap running when you are brushing your teeth. Instead, wet your toothbrush under the tap and fill a glass of water to rinse your mouth. Turn the tap off. You can rinse your brush under the tap when you have finished.
The same thing applies when you are washing your hand and face - you don't need to run the tap continuously.
As for the laundry divert your shower water to the garden. Some people even sand in a bucket when they are showering to save and use the water on the garden. You can install grey water diversion systems and use your bathroom and laundry water in the toilet and on the garden.
In the Toilet (flushing)
Install a dual flush system and always use the half flush. If you are reluctant to replace the toilet you can install various devices to reduce the flush volume. Alternatively you can put a bottle full or water in the cistern which will reduce the flush volume. Make sure the cistern isn't leaking.
Use rainwater or grey water in the toilet. This is a much better alternative if you can do it. Why waste potable drinking water flushing the toilet.
For your Pool
Maintain the pool water level about halfway up the skimmer box opening. Higher levels hamper the operation of the skimmer and can cause wastage of water.
A pool cover is an excellent way to control evaporation. Regularly check your pool for leaks. More than 50 percent of the water in your pool can evaporate in 12 moths if you don't have a pool cover fitted. Cover your pool on windy days as the wind increases evaporation.
In the Garden
Check the four-day weather forecast. If there's rain coming, wait for it. Try to hand water rather than use sprinklers. Drip systems are the most effective.
Direct the water collected on your roof, and other runoff to your shrubs, lawns and trees, and to your garden beds.
Selecting the right plants for your garden to minimize water needs, is very important and local native species are best.. Plan your garden well ahead, for various phases. When the children grow up you may want to replace the lawns with garden beds.Try to find drought tolerant plants and put all the more water hungry plants together to save on watering.
Use a screwdriver or a spike, or a soil moisture meter, so that you only water when required.
Use a watering can and hand water the garden if you can
Cover your garden in a thick layer of Compost/ or Mulch
If you need a watering system install a drip irrigation variety as they are much more water efficient.

Watering your garden in the cool of the early morning rather than in the hot part of the day. This is better for the plants and uses less water.

Lawn care - A good soaking at long intervals is best as it encourage deep roots and reduced water needs. When mowing the lawn keep the grass longer than about 2cm or an inch. Higher level grass also holds and retains water for longer. Let your lawns turn brown during dry spells in summer as they will recovery when it rains again. Remember that most lawns uses more water that your garden.

Don't wash paths, driveways, or patios down with water.

Keep planted areas dense and multi-layered which helps water retention. Sparsely placed plants dry out much more quickly.

Adding mulsh, organic matter and compost improves both the soil moisture retention of the spoil and nutrient availability.

Water pot plants by soaking them for several minutes in a laundry tub or a bucket of water. The water will soak up through the roots and water the plants much more efficiently,keeping the plants healthier. You will use much less water doing it this way.

Modify your watering schedule for the season and rainfall patterns and events to minimize over watering.